Above Ground Pools
These above ground pools are perfect for fun, games, relaxation, exercise and always pure enjoyment at its finest.
Like a magnet, these family pools encourages everyone to come together, some call it bonding, other's simply call it love. It's the kind of thing that keeps families close with all of the fun and excitement or the simple tranquility of just floating around.
Above Ground Pools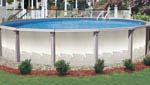 Starting at $ 600.00
Resin above ground pools are considered to be corrosion free because they are designed with high strength corrosion-free resin materials; ensuring years of fun trouble free use. Resin above ground pools are perfect for use with saltwater. Propools.com stocks round and oval shaped above ground pools with a 52" wall height, made using traditional steel components and resin.
Quality pools by Wilbar, Sharkline, Seaspray and Swim'n Play.
On ground Pools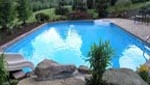 Starting at $ 5,318.00
These Champlain On Ground Pools, exclusively offered by Propools! This semi-inground pool is perfect for yards which slope because the pool can be installed above or on the ground, partially in the ground or entirely in the ground. There are instances in which you have a combination of all three installation types as described above; On Ground, Partially In and Fully Inground.

Inground Pools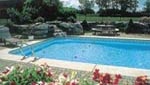 Starting at $ 7,096.60
Our inground pool kits are available with steel wall panels or polymer wall panels. The preferred choice for do-it-yourself construction are the polymer wall inground pools. These inground pools are lighter, easier to install and assemble than steel wall pools; thus cutting down on assembly time. Beyond that, there's no difference between the two types of inground pools.

High quality, value priced pools packaged with your choice of accessories, making yours a high end pool kit with affordable discount pricing. That's why we can say, "We sell cheap pools". One of our goals at propools is to go above and beyond expectation, offering the consumer the best and lowest delivered price on all of our swimming pool kits and pool accessories. Then and only then can real value be experienced. After all you're not just buying a pool; you're enhancing your lifestyle.

Propools.com is one of the most successful swimming pool direct company's in the country. We've been able to do this because we know what we're talking about. We build sell and service all of the products we sell. If you can't decide on which type of pool to put in your backyard, just give us a call at 888-352-7582. Each of our pool kits offer unique features enabling you to create the perfect backyard vacation area.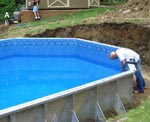 There's even a photographic journey of pool construction going step by step; showing what you should expect to be doing. We think you'll find that if you're a handy person, installing any of our swimming pool kits is a very doable project. Always keep in mind that we are available to answer any of your product and installation questions.