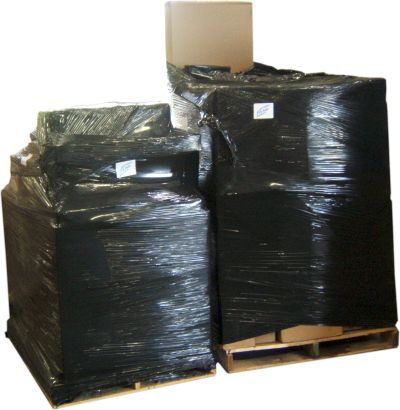 Above Ground Pools ship from our warehouse as this above ground pool shipment and all pools come complete with everything needed for assembly. This is an 18' x 40' above ground pool shipment going to a base in Iraq for our soldiers. Bigger Pools Usually Ship on 2 Pallets, Smaller Pools are usually on 1. FedEx is our International Carrier of Choice.
Pool shipments arrive at your location wrapped in a manner similar to the image above. Shipments are covered with a HEAVY-DUTY black bag, then securely wrapped with a comparably heavy shrink wrap. In the event your above ground pool shipment does not arrive similar to this please contact ProPools immediately. Toll-Free 888-352-7582.
Our pools are shipped on 4' x 4' Pallets and stand approximately 56" Tall. When the shipment arrives inspect all cartons for any possible freight damage. IF there is any damage or you suspect any damage, note it on the Bill of Lading prior to signing it. Make sure the driver signs the freight document and you get a copy. Any questions, just give us a call.
Shipping & Deliveries
All deliveries are curbside. Pro Pools' responsibility with respect to shipments made by common carrier ends with the of the bill of lading. Inspect all product shipments and report any damages or shortages should be noted on the receiving freight bill and filed with the delivering carrier. Inspect all cartons and note any possible damage on the freight bill prior to signing for receipt of the products. All shipments are scheduled for residential delivery; we will not pay for, be responsible for or reimburse for any additional residential delivery fees in which a truck with a lift gate is or has been requested by the receiver. Shipments which arrive by common carrier are to be unloaded by the receiver. (It is possible to remove any banding or securing measures from the shipment and unload the pool shipments one carton at a time.)
Special Orders
Allow 2 - 3 weeks for delivery on most Special Orders. Special Orders are designated as such on the web site; propools.com and are not returnable or able to be cancelled once the order has been processed.