Magnus Above Ground Pools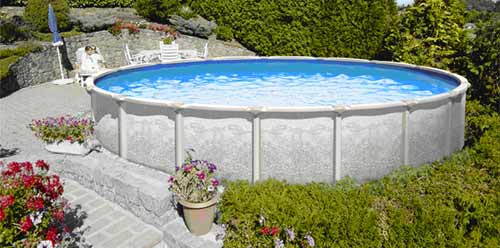 Magnus pools combine the strength of steel and the beauty of injection molded resin, giving you the best of both worlds. The superior materials and extreme durability allow the Magnus pools to reach new heights, with huge 54" walls.
With the Magnus durability and strength has never looked so good with its 7-1/2" Synpro resin top rails and 5" steel uprights. Resin does not chip like paint and when it does you'll really never know it because the resin is the same color all the way through, even if it does get scratched or dinged. Magnus Features:
Top Rail -

7" Resin

(Comfort/Strength)
Upright -

5" Steel

(Strength)
Bottom Plates - Resin (Protection)
Top Plates - Steel (Strength))
Oval System - Braceless (Beauty by Design)
Top Rail Cover - Two piece resin (Comfort/Strength & Beauty)
Foot Cover – None (Engineering Breakthrough)
Warranty:

60 years – 5 years 100%

Wall Height: 54"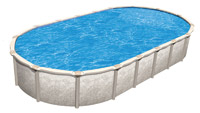 All Magnus OVAL model pools utilize the unique yard extender system; an engineering break through in pool engineering. What this does is allow the pool to not show any side buttresses on the outside of the pool.
Strength and integrity in an above ground pool has never looked as good as it does on the Magnus model pool.
Standard Package

- Blue Wall Print Bottom Overlap Liner - 15 Year Warranty
- All Resin A-Frame Ladder w/ Removable outside.
Convertible for Easy Deck Mounting.
(This is a Heavy Duty Ladder w/ a Safety Barrier)
- Powerfully Dependable 22" Waterway Sand Filter System
- 1 1/2 HP Pump w/ 3' Cord & On/Off Switch
- Installation Video
- Widemouth Skimmer & Return
- Chlorine Dispenser
- Water Test Kit
- Maintenance Kit

Skimmer Leaf Net
Vacuum Head
Vacuum Hose
Pool Brush

(telescopic pole and filter sand not included)

Savings Package
Includes:

Joker Automatic Pool Cleaner

Premier Package

Greatest $ Value

Includes:

Joker Automatic Pool Cleaner

PLUS:

Aqua Luminator Pool Light
Winter Cover
Step-1 Walk-In Pool Steps by Confer
(in place of A-Frame Ladder)

Above Ground Pools Buyers Also Like the Following Items
Made by Trendium

Size

FREE Shipping




Standard Package

FREE Shipping


Savings Package

FREE Shipping




Premier Package




Greatest $ Value

15' Round

$ 2156.00




$ 2342.00




$ 2469.00



18' Round

$ 2302.00




$ 2509.00




$ 2646.00



21' Round

$ 2503.00




$ 2731.00




$ 2882.00



24' Round

$ 2663.00




$ 2916.00




$ 3083.00



27' Round

$ 3113.00




$ 3403.00




$ 3597.00



30' Round

$ 3358.00




$ 3669.00




$ 3882.00



15' X 30' Oval

$ 4169.00




$ 4514.00




$ 4751.00



18' X 33' Oval

$ 4500.00




$ 4730.00




$ 4882.00




Above Ground Pool Comparison Guide
View an Above Ground Pool Shipment Wrapped and Ready-To-Go