Above Ground Pool Domes offer above ground pool users the ability to swim year round in above ground pools with either an all vinyl above ground pool dome or a screen/vinyl swimming pool dome. Each pool dome is custom designed to fit all above ground pools so you can swim warm.
The all vinyl above ground pool dome comes as a vinyl top and sides. Each all vinyl dome comes with zippered windows and a zippered door with a matching zipper screen, making it possible to cross ventilate the all vinyl dome during the hot summer days. The vinyl windows and doors on these above ground pool domes come with a standard screen flap, making it possible to have the cross ventilation while keeping the pesky bugs out.
Click for Vinyl Pool Dome Details.
The Vinyl/Screen above ground pool dome comes as a vinyl top with screen sides and zippered windows and door. This pool dome is just like the all vinyl dome but it has screen sections around the perimeter of the above ground pool. The screen dome has a vinyl beanie on top and screen material starts at the bend in the poles of the framework.
Screen domes come in three colors blue, black, and forest green.
Click for Screen Pool Dome Details.
Our above ground pool Sun Dome enclosure for your above ground pools, lengthens the swimming pool season and keeps your above ground pool cleaner from harmful air-borne debris and pollutants. The above ground pool domes are availalbe for both round and oval above ground pools.
Typically, an above ground pool will take 2 people, 2 to 3 hours to put up. Once it is assembled it is very easy to take down and put up again.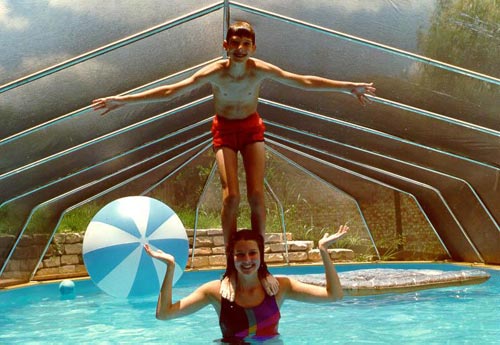 All Sun Domes Include:
Tailor Made Vinyl and Aluminum Enclosure

The Fabrico Sun Dome is a heavy 12-gauge vinyl pool enclosure that is supported by a series of aluminum tubes. The crystal clear cover is heat-sealed to fit the tubes based on pool specifications, to provide a tailored fit for every pool size.


Sturdy Double-Zipper Doors and Windows
Each above ground pool enclosure has one door opening with two heavy duty two-sided nylon zippers as well as one or more fiberglass screened window flaps/openings for flow-thru ventilation. Both doors and windows come with vinyl tabs to hold flaps in place.


Solid and Secure Enclosure Framework
The bottom edge of the enclosure is 24-gauge for double thickness and has a series of integrated grommets. Neoprene shock cords attach to the grommets and hook onto the base of the pool dome. This above ground pool dome system ensures that the vinyl enclosure is held securely over the pool framework - making the Fabrico Sun Dome an extra strong framework.
Each of our above ground pool doems are custom domes and therefore are non-returnable.
Sun Dome Warranty