In Ground Pool Solar Panel Heaters work on all in ground pools and dont' require a lot of effect and energy to install. Our solar pool heating system raises pool water temperature 6 degrees or more. It is lightweight, durable and easy to install.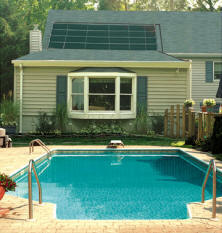 In ground swimming pool Water simply flows through the solar panel's many tubes via your existing swimming pool pump where it is heated by the sun and returned to your pool. The system can be installed on the roof of your house, shed or cabana, mounted to a rack (optional mounting kit SK43 available), or simply placed on the ground.
Get the system used by hundreds of thousands of Americans, the SunHeater in ground pool solar pool heating system. Save money on fuel and electricity bills, extend your swimming season by weeks, and get more enjoyment from your pool than ever before. Systems are available to suit all sizes of aboveground and inground pools.
Product No.
Mfg. No
Description
Pro Pools Price


Freight Included

2292
S601
Solar Heating Collectors for In Ground Pools
(4' x 20' Panel) Installation Manual
$ 336.99

2293
SK21
Roof Rack Mounting Kit for In Ground Pool Solar Panels
$ 139.99

Ordering Guide for In Ground Pool Solar Collectors
Pool Size up to:
# of
Collectors Needed
System Kits
Needed
BTU Rating
15' x 30'
2
1
80,000
16' x 36'
3
1
160,000
20' x 40'
4
1
240,000
Back to In Ground Pool Heaters