Inground Pools like these Polymer Wall Inground Pools are great for a Do-It-Yourselfers and are sold as complete inground pools with all of the equipment necessary or you can hire an installer to install these discount inground pools. Inside and out, only the finest goes into Hydra Inground Pools. Our Inground Pools with their precision engineering makes certain that each part is meticulously designed and fabricated for a flawless fit and finish, making your inground pool one of the finest inground pools on the market.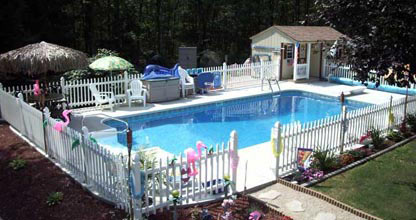 The strength of the Hydra Inground Pools intelligent design means you will have a inground swimming pool that you can enjoy trouble-free for years to come. Look good with a Hydra Inground Pool, buy yours today. It's a simple Do-It-Yourself installation backed by absolute a superltive customer support team.
Explore this revolutionary style of skimmer/return combination which completely does away with the need for installing main drains and return fittings into inground pools. Think of the time saved with installation and a pool bottom that is completely free of any visual obstructions.
No more do you have to "cut-in" for the main drains and returns, because they're just not needed! These inground pools really maximize the true identity of the vinyl liner pattern with the elimination of needing to install traditional main drains and returns. Learn more about the Aqua Genie skimmer and other state of the art information; more product details.
With the propools inground pools you'll feel healthier and spend more time outdoors in the sun and fresh air. Inground pools are a regular source of exercise, you'll feel better and look trimmer... without the side effects that accompany other forms of rigorous exercise. The quality and luxury of an Inground swimming pool.... the addition that can give you a totally new lifestyle for years to come.
WALL SYSTEM - Hydra Inground pools are manufactured with molded structural thermoplastic walls to exacting specifications based on years of research and engineering. Each inground pool panel has uniform rigidity, flatness and strength derived from the strategic placement of ribs. Hydra pool inground pool panels cannot rust, corrode, rot, crack or splinter. In addition, they offer a higher strength-to-weight ratio than steel wall inground pools.
VIRGIN VINYL LINERS - High-End computer-controlled analytical process for exceptional uniformity and strength, meaning these virgin vinyl inground pool liners are exquisitely attractive, easily installed and trouble-free.
ALIGNMENT COPING - The specially designed alignment coping encapsulates the entire top surface of all the inground pool wall panels, providing precision-engineered alignment.
BRACES - High-strength deck-support bracing is carefully engineered to transfer the deck-weight loading to the vertical wall and anchor stake.
NYLON FASTENERS - Nylon bolts, nuts and washers fasten the pool components together with the equalled strength and security of metal hardware. But these components will never rust or corrode.
ANCHOR STAKE - Rugged and durable anchor stakes assure positive leveling, locking and alignment.
Aqua Genie Skimmer/Return - Another Hydra Inground Pool exclusive is the extraordinary skimmer/feeder. It creates pool currents that sweep debris to the skimmer, removing debris up to ten times faster than any other system. It even feeds the precise amount of chlorine into the water at all times. The result is a cleaner, healthier pool with less maintenance.
COZY CORNER STEPS - (Optional) As part of a totally engineered concept, the unique Cozy Corner steps add singular balance and graceful beauty to these inground pools. Like all models in Hydra's proprietary Sweetwater Step line, the Cozy Corner is made of superior thermoplastic material for strength and durability. And unlike conventional units, these steps are supported across the entire step for unsurpassed structural integrity.
Once you decide on an inground pool, don't forget that during the off-season, a pool safety cover is highly recommended.