Inground Pools allow you to relax in the comfort of your own backyard! After all, you're not just buying one of the best inground pools, you're changing your lifestyle. From the very first day you jump into one of our inground pools, you'll discover a world of change. So, lie back and let the refreshing water relax you. You can almost feel the tension and stress of the day disappear. You're most certainly likely to share your fun with family, friends and entertain them often. As with all inground pools, the more pool you have; the more fun swimmers will have. Inground Pools are only as good as the quality of materials that go into their planning and design. Throughout the entire manufacturing process, nothing as been spared in the Propools Inground Pools Collection. This assures you of the highest quality swimming pool for years of carefree fun.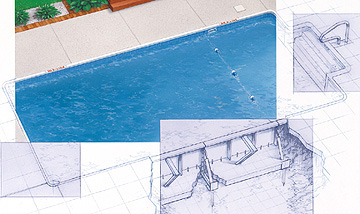 These steel wall panels are constructed using sturdy 14-Gauge Galvanized Steel protected by a Zinc Coating, and supported with steel A-frame bracing for strength.
ProPools vs. Their Pools: Product Comparison
In addition, a series of specialized supports significantly adds to the quality and durability of your pool. Deck braces help support the weight of the surrounding deck and prevent shifting under changing soil conditions.
Jigs both align and support the ladder and handrail for strength and safety. All liners feature a handsome tile and print pattern and are constructed from premium grade 20 mil virgin vinyl. Filtration and circulation systems as well as aluminum coping are fabricated from a variety of advanced technology materials which are extremely resistant to corrosion. Once you decide on an inground pool, don't forget that during the off-season, a pool safety cover is highly recommended.
All Inground Pool Kits include the following items:

1 HP Hayward Super Pump
24" Hayward Top Mount Sand Filter
1 Skimmer (20' x 40' pools receive 2)
3 Return Fittings
2 Return Directional Fittings
Pool Brush
Pool Leaf Net
5-in-1 Test Kit