Take the hassle out of using your solar pool covers.
This one-person reel features special bearing systems at both ends of the reel, providing smooth, effortless removal of solar pool covers. Our deluxe solar pool cover reel you will use your solar pool cover more often, saving money on unnecessary gas while you swim in a warmer pool. The solar pool cover reel is anchored by rugged mounting brackets that are permanently installed on your pool's top rail (rail must be at least 6").
The mounting brackets allow you to remove the reel in the fall and install your winter cover without obstruction.
The hand cranks and bases are constructed of durable non-corroding polymer material that will last and last. Our solar pool cover reels will fit either oval or round above ground pools and comes complete with solar pool cover attachment hardware and installation instructions.
Some assembly required. Backed by a 2-Year Warranty.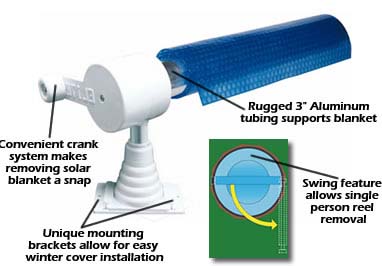 Product No.
Description

ProPools Price




Freight Included

8215

Deluxe Solar Cover Reel for Above Ground Pools up to 18' Across

$ 246.55



8216

Deluxe Solar Cover Reel for Above Ground Pools up to 24' Across

$ 292.44



8217

Deluxe Solar Cover Reel for Above Ground Pools up to 28' Across

$ 452.14



8218

Above Ground Pool Solar Cover Strap Kit

$ 44.76



---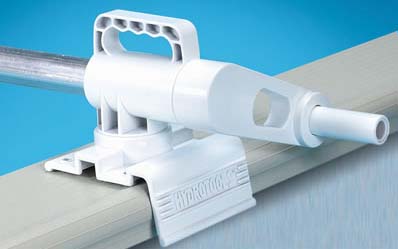 Economy Solar Pool Cover Roller
This simple, affordable above-ground solar pool cover reel makes removing your solar blanket quick & easy. The simple reel base fits on almost any above ground pool top rail and the handle makes this reel easy to lift & pivot. Made from U.V.-resistant resin with non-eroding aluminum tubing. Comes complete with reel, attachment straps and hardware.
Backed by a 1-Year Warranty.
Product No.
Description

ProPools Price




Freight Included

8219

Economy Solar Cover Reel for Above Ground Pools up to 18' Across

$ 171.59



8220

Economy Solar Cover Reel for Above Ground Pools up to 24' Across

$ 201.45



8218

Above Ground Pool Solar Cover Strap Kit

$ 44.76