Delivered Price
$ 704.62

Relax, in a Completely Portable Hot Tub!

Seats up to 4 Adults
The Price You See is the Price You Pay -- No Additional Charges. The portable AeroSpa inflatable hot tub can be taken anywhere you go; like a backyard, patio or even RV'ing. Just remove the inflatable hot tub from its box, plug in, press a button, and watch the Aero Spa inflate. The Aero Spa inflate hot tub inflates in minutes! It's EASY!
Fill the aerospa with water from a garden hose and turn on the filter & heater, then you're ready to enjoy the inviting and relaxing inflatable hot tub!
Check out these great features of the Aerospa:

Durable vinyl construction
211 Gallon capacity
Seats up to 4 adults
Outer diameter 73"; Inner diameter 55"
Easy Set-Up, no tools needed!
Plugs into 110V outlet w/ 12' power cord included
Zippered thermal cover
Self inflates in minutes!
Massaging Bubble System with 130 Air Jets!
Includes filtration pump & heater
900W Thermostatically-Controlled spa heater heats to 104° F

Completely portable easily folds for storing or traveling!

3 month warranty on the hot tub, controls & heater
Shipping weight = 50 lbs
Shipping dimensions = 28"x22"x19"
Made of durable 40 gauge PVC Vinyl and 19 gauge cloth
Comes with 2 filter cartridges - clean or replace cartridges at least every 120 hours
Includes repair patch and glue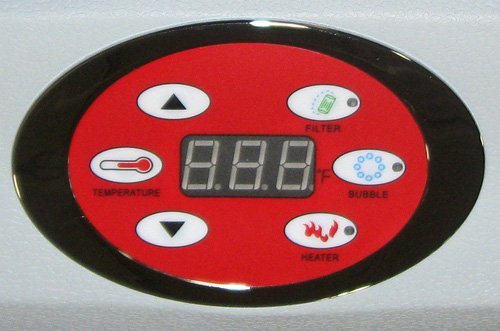 Inflatable Hot Tub Controls
Installation Considerations
Surface must be flat, free of sharp objects and able to withstand weight of filled spa(1800 lbs). Consider drainage options.
Maintenance
Clean filter once a week.
Use appropriate chemicals to maintain water balance and sanitation.
Enjoy Year Round Invigorating Massages with Your AERO SPA from ProPools.com, a licensed dealer for AERO Spas.