With over 20 years experience of selling only the best in quality pools in the greater Nashville and Middle Tennessee area; it's no wonder that we are sought after all over the country. We pride ourselves in selling pools at wholesale discount pricing without giving up anything in quality or inegrity. Backed by some of the best manufacturer warranties in the industry, we're certain that you'll find the perfect pool for your backyard.
If you need some help in which type of pool to get, just give us a call and we'll help.
ProPools.com was founded and continues to be based upon selling quality affordable pool products. We put an end to over-priced pools. We sell discount pools at a fair price so that having a backyard vacation area can be your reality. The mission is simple - To Help Families create the Ultimate Backyard Vacation using the best products at a lower price thus creating higher consumer satisfaction. Then and only then is TRUE VALUE experienced.
Above Ground Pools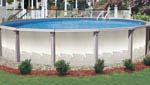 Starting at $ 600.00
Resin above ground pools are considered to be corrosion free because they are designed with high strength corrosion-free resin materials; ensuring years of fun trouble free use. Resin above ground pools are perfect for use with saltwater. Propools.com stocks round and oval shaped above ground pools with a 52" wall height, made using traditional steel components and resin.
Quality pools by Wilbar, Sharkline, Seaspray and Swim'n Play.
On ground Pools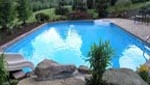 Starting at $ 4,795.98
These Champlain On Ground Pools, exclusively offered by Propools! This semi-inground pool is perfect for yards which slope because the pool can be installed above or on the ground, partially in the ground or entirely in the ground. There are instances in which you have a combination of all three installation types as described above; On Ground, Partially In and Fully Inground.

Inground Pools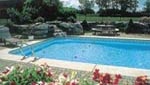 Starting at $ 7,096.60
Our inground pool kits are available with steel wall panels or polymer wall panels. The preferred choice for do-it-yourself construction are the polymer wall inground pools. These inground pools are lighter, easier to install and assemble than steel wall pools; thus cutting down on assembly time. Beyond that, there's no difference between the two types of inground pools.

Undoubtedly we have the lowest delivered prices on complete pool kits, second to none. What's more is we have swimming pool installation available, just inquire for more details.
We have taken our experience from building and servicing above ground pools and inground swimming pools in Middle Tennessee and applied it to our web site by putting the type of information do-it yourselfer's want to know. One of our objectives is to make it possible for the consumer to purchase a complete swimming pool package and either assemble it themselves or act as their own General Contractor given the multitude of information and customer support we offer. If you would rather have the pool installed, we can help with that too.
Let's get started on finding you the perfect pool to create your very own backyard vacation area.