Above Ground Pool Heaters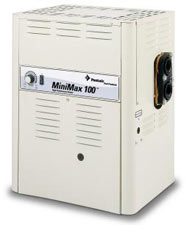 The Pentair MiniMax 100 heaters for above ground pools are compact, lightweight and efficient. MiniMax pool heaters can be connected to schedule 40 CPVC or ABS pipe and comes with a built-in outdoor top. Pentair Above Ground Pool Heaters come standard with a reliable direct-spark ignition system, available in both the propane and natural gas. Direct-spark ignition swimming pool heaters require electric to ignite the pilot because not all pool heaters require a standing pilot. The compact effecient MiniMax Pool Heaters are available with a standing pilot should you not want to run electric to the pool heater.
Features:
Millivolt standing pilot versions in propane or natural gas
Quiet and dependable operation from packaged burner system
Bronze Headers
Quick Flange allow 1-1/2 in. FIP connect
The controls have been designed for very easy access and are user friendly
Low profile and lightweight. Perfect for one-man installation
Installs to 3,500 ft. altitude
Item No.
Mfg. No.
Description
Propool Price


Freight Included

2226
460347
Natural Gas Electronic Ignition Pool Heater
$ 1096.99
2227
460348
Propane Gas Electronic Ignition Pool Heater
$ 1088.99
2228
460352
Natural Gas Standing Pilot Pool Heater
$ 1148.99
2229
460353
Propane Gas Standing Pilot Pool Heater
$ 1148.99
Pentair MiniMax Pool Heaters Brochure
Pentair MiniMax Pool Heaters Manual
Back to Above Ground Pool Heaters.
Looking for a bigger heater? Check out our Inground Pool Heaters.