Hayward Automatic Vinyl InGround Cleaner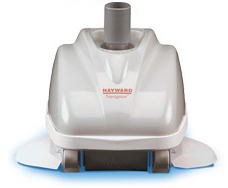 Click Image to Enlarge
Product No.
Mfg. No
Description
Pro Pools Price
Freight Included
3007
925V
New & Improved Hayward Automatic InGround Cleaner - Complete for Vinyl Liner Pools
$ 607.00

The Hayward Navigator Pool Cleaners set the standard in high performance swimming pool cleaning. It's newly designed hybrid version of the ever popular Pool Vac automatic pool cleaner features many new product enhancements, more durable components, plus a 5 year warranty. The Navigator Pool Cleaner is easy to install and features the exclusive SmartDrive programmed steering which assures that virtually all pools will be cleaned in only 2-3 hours. Quiet and attractive, the Hayward Navigator pool cleaner is the intelligent choice in automatic pool cleaners from smart pool owners everywhere. This automatic pool cleaner is for inground vinyl liner pools.
Tech Specs
Manufacturer: Hayward
Model: Navigator
Freight Info: Delivery included in the 48 states
Tech Specs: Pool Cleaners can make your backyard vacation area a lot more enjoyable and more hassle free. Choose the right Automatic Pool Cleaner only involves a couple of questions and then the look of the pool cleaner. There are two absic types of automatic inground pool cleaners, first being a suction side automatic pool cleaner which uses the pumps suction to clean the pool and the other is a pressure side automatic pool cleaner which can use either a seperate pump or your existing pool pump to power the cleaner around the pool. Generally these types of automatic Pool Cleaners use a collection bag or cannister to collect the debris in, while suction side pool cleaners use either the skimmer basket or the pump basket itself to collect the debris.
Looking for an
Automatic Above Ground Pool Cleaners
-
Click Here