Un-Fold'n Gro OrchidHouse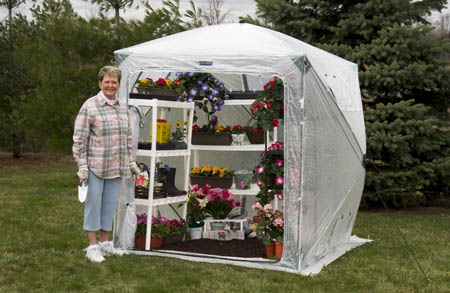 Click Image to Enlarge
Product No.
Mfg. No
Description
Pro Pools Price
Freight Included
50256
FHOH400
Un-Fold'n Gro OrchidHouse
$ 239.62

Greenhouses should all be this easy to assemble. The OrchidHouse Greenhouse unfolds in a snap and is fully flexible in nature. It has a full zipper closure and plenty of screen ventilation to provide plenty of fresh air for plants. Start your plants and protect your plants from wind, frost and direct snowfall with one of our OrchidHouse Greenhouses.
Tech Specs
Manufacturer: FlowerHouse
Model: OrchidHouse
Weight: 26 lbs
Freight Info: Delivery included in the 48 states
Notes: Measures: 83"H x 72"W x 72"D
Tech Specs:
Portable Greenhouse Tips

2 openings for Hoses, Power cords, etc.
CAUTION!
Sharp edges of wood, wire, or nails may cut unwanted vents in your FlowerHouse™. Always be sure to soften any sharp edges on trellises, shelving units or furniture so no damage is done to your FlowerHouse.
Do not hang baskets from the ceiling.