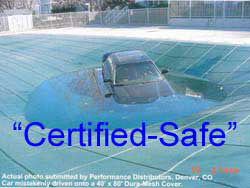 Free Shipping

on All Safety Covers

Safety Covers filter out winter debris and our pool safety covers ensure an easier Spring opening and the removal these pool safety covers is a snap. Merlin mesh pool safety covers have had a tendency to open up looking more like a frog pond than a pool, until now! That is why we offer the DuraMesh & SmartMesh Pool Safety Covers. A truly unique mesh material, Merlin swimming pool safety covers provide 100% shade from the algae causing rays of the sun, while still allowing rain and melting snow to pass through the cover material. This material is so special we were granted a U.S. Patent! If your cover doesn't have "Merlin" sewn into the perimeter strapping, then it's not a Merlin.

Even Hurricane Sandy couldn't beat down the strength Merlin SmartMesh Safety Covers!

Our pool covers are the strongest in the industry. After all, don't you want one of the strongest and Safest winter pool covers possible? These swimming Pool Covers Protect Most Importantly Your Family and your pool. Our Certified-SAFE Safety Swimming Pool Covers are available in Either Mesh or Solid Material for Peace of Mind and 'curb appeal'. These mesh safety covers and solid safety covers meet or exceed pool safety cover performance standards as set forth in ASTM F1346-91.
Read our Pool Safety Cover FAQ's list.

We also do custom shape covers and more sizes available to us, than shown.
If you would like a custom cover or a size other than listed, please give us a call at 888-352-7582.
Request a Safety Cover Quote

- MORE -


Cover Sizes OnHand
Call for Pricing 888-352-7582
SmartMesh
15 Year
More Info

DuraMesh


15 Year
More Sizes & Info

Safety Solid


10 Year
(No Step)
(w/ Step*)
(No Step)
(w/ Step*)
(No Step)
(w/ Step*)

16' x 32' Rectangle

$ 817.00

$ 1391.00

$ 817.00

$ 894.00

$ 1303.00

$ 1411.00


18' x 36' Rectangle

$ 1492.00

$ 1604.00

$ 911.00

$ 997.00

$ 1507.00

$ 1616.00


20' x 40' Rectangle

$ 1712.00

$ 1818.00

$ 1064.00

$ 1141.00

$ 1648.00

$ 1757.00


Call

888-352-7582

for Quick Cover Quotes on ANY OTHER SIZE POOL

All Solid Safety Covers come
with a Mesh Drain Panel

*

4' x 8' Center End Step, 1' Corner Side Off-Set or 2' Corner Side Off-Set - Only
All Merlin Pool Safety Covers Include:

Installation Rod
Concrete Deck Anchors
(For Wood Decks - Specify)
Storage Bag
Straps / Springs

Get the Custom Measurement Form Here

Made in AMERICA
100% shade is not all the Merlin Pool Safety Covers provide you. Merlin winter pool safety covers, filter debris as small as 40 microns. To give you a comparison, a typical sand filter for a pool filters debris as small as 20 to 30 microns. A SmartMesh pool safety cover is also like having a filter over your pool during the winter! Merlin Pool Covers are also much lighter than a solid safety cover, which we also offer. Approximately 40% lighter, these Mesh safety pool covers are easy to put on and take off.
Mesh is the ultimate in convenience and function when it comes to pool safety covers. It is no wonder all of our competitors are trying to copy this one of a kind cover material. Make sure your cover says Merlin. Make sure you get a PatentedPool Safety Cover. Look for our U.S. Patent number on the brochures and web-sites of our competition. You will probably see our patent number and the shade percentage their material provides. No other pool safety cover on the market provides 100% shade. So, don't settle for anything less! Merlin Safety Pool Covers Patent Number is: U.S. Patent 6,866,187 - 100% Shade.