What is needed to quote a pool dome:
Both the all vinyl and the screen/vinyl above ground pool domes are custom made to fit each pool. To ensure the dome fits the pool correctly we will need some specific information about the pool as shown below.
Manufacture and model of the pool
Diameter of a round pool or length and width of an oval pool
Number of vertical uprights around the pool
Width of the Top rail when measuring flat across the rail from inside edge of pool to outside edge
Length of the top rail from the middle of one cap to the middle of the next top cap on the outside edge of the top rail. Oval pools will need this measurement done on one of the "curved" ends and one of the "straight" sides. (Points A to B in Illustration below)
In the email also include a clear image of the pool.

Email all of the above information to [email protected]



Our above ground pool Sun Dome enclosure for your above ground pools, lengthens the swimming pool season and keeps your above ground pool cleaner from harmful air-borne debris and pollutants. The above ground pool domes are available for both round and oval above ground pools.
Typically, an above ground pool will take 2 people, 2 to 3 hours to put up. Once it is assembled it is very easy to take down and put up again.
All Sun Domes Include:
Tailor Made Vinyl and Aluminum Enclosure
The Fabrico Sun Dome is a heavy 12-gauge vinyl pool enclosure that is supported by a series of aluminum tubes. The crystal clear cover is heat-sealed to fit the tubes based on pool specifications, to provide a tailored fit for every pool size.
Sturdy Double-Zipper Doors and Windows
Each above ground pool enclosure has one door opening with two heavy duty two-sided nylon zippers as well as one or more fiberglass screened window flaps/openings for flow-thru ventilation. Both doors and windows come with vinyl tabs to hold flaps in place.
Solid and Secure Enclosure Framework
The bottom edge of the enclosure is 24-gauge for double thickness and has a series of integrated grommets. Neoprene shock cords attach to the grommets and hook onto the base of the pool dome. This above ground pool dome system ensures that the vinyl enclosure is held securely over the pool framework - making the Fabrico Sun Dome an extra strong framework.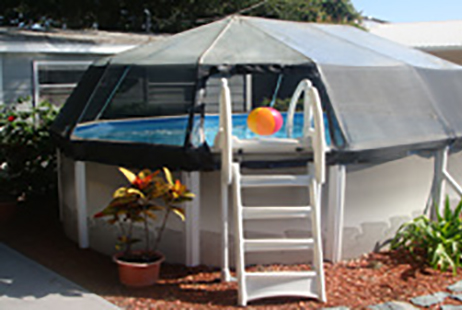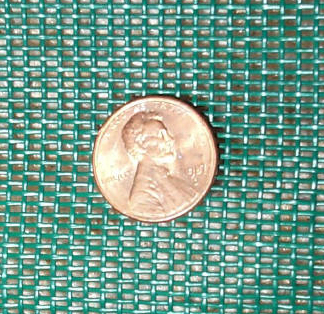 Screen Pool Dome Weave
Each of our above ground pool domes are custom domes and therefore are non-returnable.