On Ground Pool Knowledge Questions & Answers

Hydrosphere pool can be partially or completely buried in the ground. As well, the round shapes can sit entirely on top of the ground like an above ground pool and the oval pools can sit mostly above the ground if you would prefer. Optional on all HydroSphere pools is your choice of Autumn Sand or Cocoa Brown wall paneling and trim to match your backyard color pallet. So no matter however much or how little of the pool you want to be visible from the outside, it will be visually clean, simple and fit your backyard colors.

HydroSphere pool liners have a standard flat bottom which will provide approximately 46" of water depth. If you'd like a little taper to the pool bottom to make it a little deeper, we can do that with typically no additional charge. All of the liners for HydroSphere pools are custom made to fit each pool sold, meaning a tapered pool bottom is possible. Call or Email us for more information.

The outside of any on ground swimming pool should have a visually appealing finished look which enhances the look of the pool area. You've the option to choose either one of the two proven matching color patterns below or add your own paneling and trim to the pool. HydroSphere Pool paneling is a high-impact resistant resin with UV resistance, chemical resistant and has thermal conductivity energy efficiency. Our competition's pool siding easily dents and will corrode over time, The HydroSphere Pool siding will keep that brand-new appearance for years to come!

Cocoa Brown Color Panel & Autumn Sand Trim Package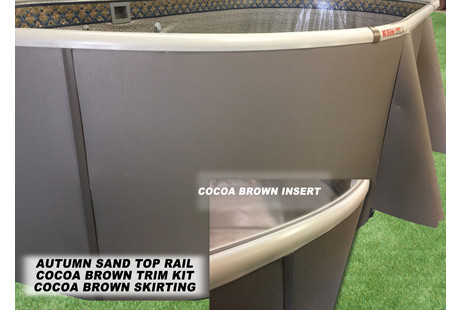 Autumn Sand Color Panel & Autumn Sand coupled with Cocoa Brown Accent Trim Package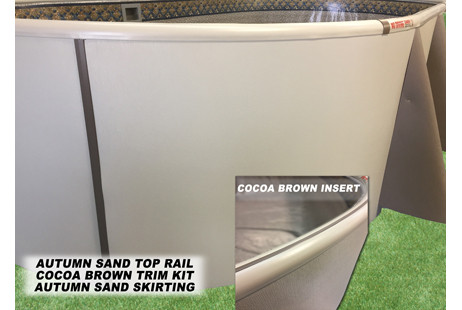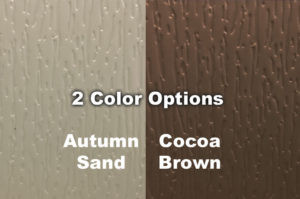 Patent-Pending Radius Top Railing
Unlike our competitor's choppy, mitered top railing, The HydroSphere top rail is a smooth, continuous design that flows with the shape of the pool. Soft to the touch, the Patent-Pending top rail is designed for comfort as well as aesthetics.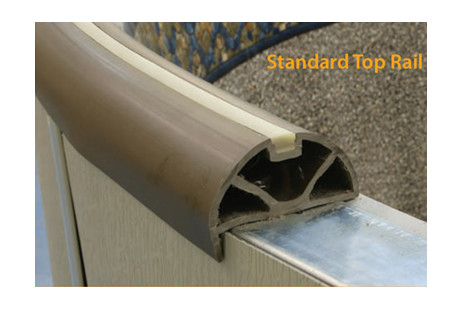 Want to Put on a Wood Deck?
No, problem, We can help you with a better look and feel. Top rail with 'slatting' for deck boards. The optional wood deck coping can be ordered to do around the entire pool or just around part of the pool. The choice is yours. Have questions or not sure. Just give us a call and we'll help you find the right answers.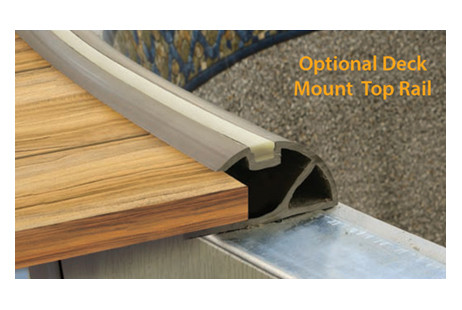 Side Wall Insulation Kits
All HydroSphere Pools have Additional Purchase Options where you can purchase an energy efficient side wall insulation kit. If the pool is going to be installed mostly or completely in the ground the insulation kit is not necessary because the ground is a natural insulator. If the pool will be mostly above ground then the insulation kit containing 2" thick R-10 insulation panels is worth every penny.



Based upon Thermoconductivity (W/m*K) or the transfer of heat and cold, these 2" Thick HydroSphere inulation panels rank as the best insulators at a 0.3 W/m*K.
Compare with other materials used for paneling: Steel at 43 @/m*K and Aluminum at 250 W/m*K and you'll see that HydroSphere pool panels are the most energy saving panels on the market.
Doughboy and Funtastic Pools' HydroSphere brand is a pool that will last a lifetime.
Oval HydroSphere Pool with Cocoa Brown Side Panels and Autumn Sand Trim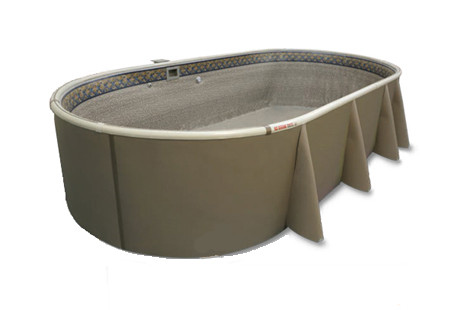 Strength and Integrity of a pool wall is crucial to the lifespan of a pool. The Funtastic Pool manufactured by Only Alpha Pool Products has invested significant time and resources to create a virtually indestructible panel joint. Where a joint in the steel is used a 'Spert' rivet like those used in the Jaguar automobiles is used. The joints stay together where many others fall apart. The video below compares Only Alpha's main competitors panel joints to their 'Spert' joints. As you'll be able to see, the panel stays intact; meaning that as the ground shifts or freezes and thaws you DO NOT have to worry about the pool.
Installation Information


Steel Comparison Video