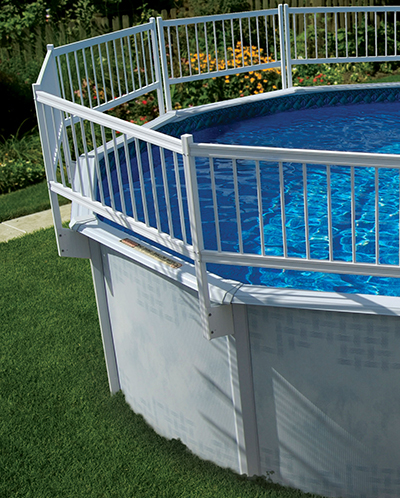 Universal Resin Above Ground Pool Fences save you money and satisfy most fence requirements for above ground pools. Above ground pool fence specifications should be verified with your local codes officials before installing to ensure compliance standards. We proudly offer above ground swimming pool fences for all of our above ground pools, which will fit most other types of above ground pools.
The Universal resin modular fence is made from sturdy yet lightweight rustproof resin and can be installed by pool owners with little effort. The attractive fencing keeps toys, balls and floats within the pool and at the same time minimizes pool use by unauthorized guests and pets. To order the correct fence kit you only need to know how many of the top seats on the above ground pool will require the fence.
A Top Seat or Top Rail is recognized as the perimeter horizontal rails between each of the above ground pool uprights.
Maintenance free resin swimming pool fence
Easy installation - Do-it-yourself
These Swimming Pool Fences fit most types of above ground pools
Helps decrease risk of unauthorized use of pool
Helps keep toys, balls and floats in pool
Very attractive - enhances appearance of swimming pool
Available in white
Modular packaging - buy only as many sections as you need
Installation Manual
Warranty Card