Do you install your own appliances? Is your favorite weekend activity renovating your own home? If you have answered yes to any of these questions, chances are very good that you can install your own pool. With you, the homeowner, in mind, we have designed a line of pools that you can install yourself, using our 50+ years of pool manufacturing experience. The result will be a backyard paradise that you will be able to proudly look at and say - "I did that".
We don't have contractors whom we recommend for Inground Swimming Pool Installation. Installation of an inground pool does not have to be done by a pool company. A general contractor, home builder, companies who do additions on homes, etc. can do the installation. Installation is straight forward and quite basic. Below is some information you might find useful in understanding the installation process.
Installation of the inground pool you're interested in is a basic and straight forward construction process. No specialized skill sets are needed to complete the backyard transformation of a life time. If you are handy (or have people help that are) and can follow instructions, then this project is for you.
We've been selling these pools for over 20 years and a few years ago we stopped doing the actual installation so we could better focus on the Do-It-Yourself process. When any of our inground pools are purchased you will be contacted so we can start and continue a conversation through the entire installation process. You'll have 24x7 access to an experienced in-house builder who can answer any questions you or your builder may have.
If you don't feel you're up to this project you should be able to find others to complete it for you. You've a few options. You can either act as a general contractor and hire sub-contractors to do the various tasks or you can hire one company and have them do all of it. Again, because the construction process is generic and straight forward; finding an installer shouldn't be that difficult. Here are some types of companies to look at, though it's not a complete list.
General Construction Companies
People who do additions on homes
Other pool companies
Companies who install driveways
Landscapers
Local Handyman
Etc.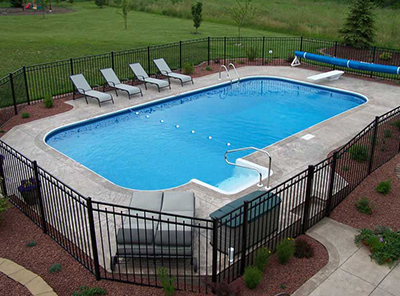 With an inground pool you'll feel healthier and spend more time outdoors in the sun and fresh air. A swimming pool can be a regular source of exercise, you'll feel better and look trimmer... without the side effects that accompany other forms of rigorous exercise. The quality and luxury of an Inground pool is the addition that can give you a totally new lifestyle for years to come. Luxury in ground pools at a wholesale price will add years of happiness, luxury and enjoyment to the backyard. Once you decide on an in ground pool, don't forget that during the off-season, a
pool safety cover
is highly recommended.
Create a Backyard Vacation today with propools.com. We are not a "big box" store; but we do have big box pricing. We harness the power of volume buying combined with wholesale direct pricing to offer the best and most affordable in ground pools in the industry. Our pool kits are priced to perfectly fit any budget and most any backyard; allowing you to maximize the fun and excitement for years to come. We want to help you create the perfect Backyard Vacation destination. Feel Free to give us a call today! Toll-Free 888-352-7582.