One of the greatest hold backs for getting a swimming pool is the purchase and installation cost. There's the cost of the swimming pool itself, then cost of installing the pool. Let's take some time and look at the cost considerations of purchasing and building a swimming pool. Costs below are approximate costs from the historical data we have used over the past 30+ years in the middle Tennessee area.

What is the most affordable type of inground pool? There are primarily 3 types of inground pools Concrete, Fiberglass and Vinyl Liner.
Concrete – Most Expensive and labor intensive construction of all. The pool finish can be abrasive on the bottom of the feet, especially once the swimmers feet become 'pruney' and extra soft.

Fiberglass – Mid-Range on price but limited on size and shape with no customization and more often than not have to be installed with crane as shown below.

Vinyl Liner – Most Affordable. Customizable in size and Shape. Most affordably priced Do-It-Yourself pool kit on the market and it's easy on the feet.

Do I have to have a construction permit to put in an inground pool? Whether or not a construction permit is required depends upon your local codes department and the requirements they have on the books. Some rural areas do not require a permit for the pool construction but will require an electrical inspection.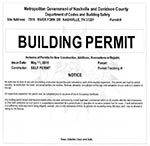 Suburban and closer to the city or town usually may very well require a permit prior to commencement of construction. The best source for answering the question for your specific area would be to contact your local city/county codes department. Permit do cost money and prices vary by governance.

Where can I purchase an inground pool? A swimming pool in many areas can be purchased locally but always Online.
Local: Purchasing a pool locally is a good choice for those who do not want to do the construction of the pool or manage the construction of said pool. You'll always pay more for someone to do this when you purchase the pool with installation. If you decide to look into a local builder ask them to itemize out the costs for the entire project. Then look at the costs for the pool kit and associated swimming pool equipment. Many of these stores actually end up charging up to 2-3 times what the pool really should be sold for in today's economy. Especially when compared to purchasing the pool online.
Online: Inground pools can be purchased online saving thousands of dollars. At our online store, Propools.com we only sell quality products at an affordable price with backend customer support that is second to none.
"Pro Pools was founded and continues to be based upon E-commerce. The technology is complicated but the mission simple - To Help Families create the Ultimate Backyard Vacation using the best products at a lower price thus creating higher consumer satisfaction. Then and only then is TRUE VALUE experienced.
We have taken our experience from building and servicing above ground pools and inground swimming pools in Middle Tennessee and applied it to our web site by putting the type of information Do-It-Yourselfers want to know. One of our objectives is to make it possible for the consumer to purchase a complete swimming pool package and either assemble it themselves or act as their own General Contractor given the multitude of information and customer support we offer." More…
When you purchase one of these pool kits you also get a direct phone number to contact the support team leader at any time during the
construction
process. Affordable prices mean you can purchase and have delivered a complete inground
pool kit
with
all
of the equipment needed for installation and operation for under $9,000.00. Did we mention warranty on these pools yet? Well, they also come with a
Lifetime Warranty
! No one else does that, especially a local pool company.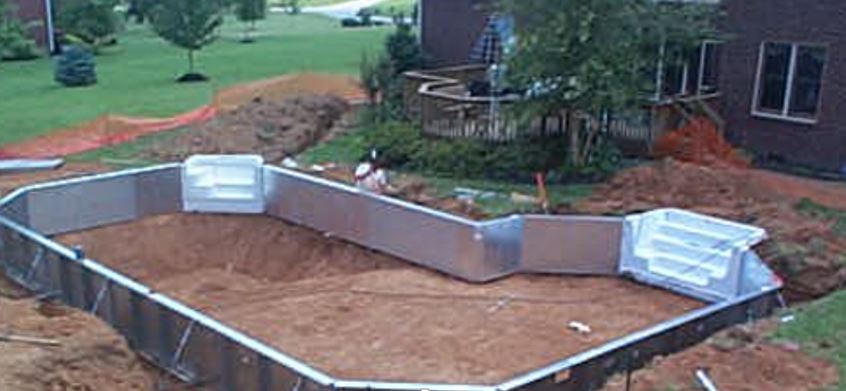 The pool kits we offer are the most affordable type of inground pool on the market, vinyl liner pools. They have steel walls which are erected, bolted together then a liner is suspended ar
ound the pool and held in place by a bead at the top and the sheer water pressure.
Again, this type of inground pool is the most affordable and the most popular. Vinyl liner pools are hugely popular in large part due to ease of assembly and cost. Not to mention it has a manufacturer backed Lifetime Warranty!
Yes, there are other companies selling pool kits online but we can assure you that no one will be there for you to help you through this process like Propools will be. We've online customers who have bought pool kits from us 15 years ago still calling us today wanting to get additional accessories for their pools. Things like slides,
winter covers
, new
liners
, etc. We build long last relationships with our customers every day.
What installation costs are associated with an inground pool? Installation costs vary depending upon how much labor you may or may not be willing to do. These figures are meant to help with budgeting costs for the different segments of pool construction and installation.
Excavation (Done by a Local Excavator): $800.00 - $1,500.00
Digging of the pool area for the pool. Price will largely depend upon distance to the job, yard access, slope and haul away of unwanted dirt. Before any excavation begins be sure to Call Before You Dig.


Inground pools require a concrete footer around the outside of the pool walls. Concrete should be approximately 6" thick and 18" back from pool wall.



Gravel Backfill: $700.00 - $1,000.00
Gravel backfill should be used after the pluming is run and prior to pouring the deck. This backfill will be what the concrete decking will be poured onto.
Pool Bottom Material: (Pool Krete $1,000.00 - $1,700.00) (Sand Cement $500.00 - $1,000.00)
This is the material that goes between the ground and the liner. This can be either a sand and cement mixture at a ratio of 6 parts sand to 1 part grey Portland cement or a Pool Krete pool bottom.

Pool Krete comes in 40 lb bags and is mixed in a paddle mixer. It's a much easier material to trowel out across the bottom of the pool. Visually it should be mixed to the consistency of a good thick bowl of oatmeal.

Sand and Cement is mixed on the job by hand with a shovel and is also mixed in a paddle mixer. This is mixed so that after mixing you can take a ball of the sand cement mix, squeeze it in your hand making a fist. Open your hand, have it keep the shape of a ball and not be any water dripping from the ball or your hand.

Weather conditions may dictate a "wetter" than normal mix if the mix is projected to not be used quickly after being mixed. If there is going to be some-time between mixing and using, use a mud-hoe to manually 'work' the mix until it's ready to be used. It may also be necessary to add additional water to the mix to keep it from setting up to fast while waiting to use.



Paddle Mixer Rental: $175.00 / Day

Used for mixing the pool bottom material.



Pool perimeter plumbing pipe and fittings for the pool and the filter system.



Electrical Panel & Wiring: $300.00 - $500.00

Electrical connection box for the filter system pad, lights, etc.



Decking and Landscaping – These vary solely upon imagination and style.

Outside of the costs above the cost of labor to have someone do the labor itself can range up to another $5,000.00 - $7,000.00. It is for this reason that many homeowner's decide to do the work themselves while we assist over the phone and through email. Another thing that can be done is to have a consultant to come out and work with you on the job while it's being done. This will typically cost $3,000.00 - $5,000.00.
All told the good budget range for swimming pool installation costs in addition to the pool kit would be $6,000.00 - $12,000.00. Again, the final cost truly depends upon how much you're willing to do yourself and the region of the country you are in.

You should rest assured of knowing that whatever you run into or whatever question you may have before, during or after installation of your pool; you can pick up the phone and call ProPools day or night.
Now, that you know about how much it costs to install an in ground pool the next question is usually "How long does it take to install an in ground pool?"
Do-It-yourself and end up with an inground pool costing you thousands less. Now learn more about the
inground pool construction
process.