These are complete pool packages with everything needed for pool assembly and operation. All of the steps in these pool packages utilize a liner-over-step to provide a much better looking fit into the backyard. The 42" walls allow all of these in ground pools to have a standard 36" shallow end depth. Depths can range between 3' and 8' because each liner is custom made to fit each pool.
The warmth and hospitality of your home extends into your backyard landscape with an in ground pool. Your backyard offers ideal comfort, convenience, peace, privacy, and, with an in ground swimming pool, it is the perfect setting for any occasion: birthday, graduation, bbq, or just a Fun Summer Day. Founded in 1976, Cardinal's operation began in a modest 5,000 square foot shop with only a shear, a press brake, and punch press. Since then, our offices and manufacturing facilities have expanded to occupy over 300,000 square feet.
Cardinal realizes that customers are making a sizeable investment when they decide to install a backyard pool. Cardinal and Propools does their utmost to ensure that the final result is a beautiful and long-lasting swimming pool. The pool system is modular, meaning that each kit is comprised of different panels, which when bolted together give the desired shape and size, exactly to specifications. Cardinal is the only manufacturer that uses total automation in the fabrication of their panels. Automation assures consistent high quality, precision alignment, and unmatched accuracy. Cardinal is a "just in time" manufacturer, which means we do not stock our panels. They are made to order, and production is non-stop.
Cardinal is committed to staying a dynamic and innovative leader in the industry by continually reinvesting in the business, in people and technology to foster growth continual high quality and exceptional service. Since Cardinal's inception, they have always operated with the principles of providing the end users with a high-quality product paired with exceptional customer service.
Walls
Cardinal's pool wall panels are made from only the finest domestically sourced raw materials. Cardinal realizes that you are making a sizeable investment when you decide to install a backyard pool, so they do their utmost to ensure that the result is a beautiful and long-lasting swimming pool. Cardinal's commitment to quality and service is unrivaled. The manufacturing processes and computer design assures that every panel is totally consistent and accurate every time, guaranteeing a perfect fit and easy assembly on the job site.
Liners
Cardinal Liners is the first choice in vinyl liners! Cardinal Liners should be your first choice for vinyl liners and other vinyl products.
Why? The reasons are many:
Time trusted: Cardinal Liners has been making liners for 47 years, with a staff that has a combined 150 years of experience!
Over 100 years combined experience in our design department goes into every Cardinal Pool Liner. In our complete vinyl liner plant, swimming pool liners are carefully fabricated to meet your precise pool dimensions. Cardinal Liners does not make "parachute" style liners that fit a wide variety of pools! We "Custom Fit" each liner order to protect your investment. An over-stretched liner will not last! We are full time vinyl fabricators; it's our only business.
Protected Vinyl: All Cardinal Liner vinyl patterns are covered with a protective coating for durability and lasting beauty.
Quality begins with the vinyl: Industry Standard virgin vinyl is offered to meet your design requirements.

Freeze resistant: Cardinal Liners comply with the industry standard for sub-zero "cold crack" durability.
Vulcanized assembly: Cardinal uses a dielectric heat-sealing process that literally joins the vinyl into one air-tight, and water-tight piece that is stronger than the original material!
Outstanding strength: Cardinal Liner engineering, and the complete vulcanized process used to secure the weld, contribute to the amazing strength of our products.
Lap welded: All Cardinal liners are lap welded for superior strength. Other types of welds are often not as strong and may result in unsightly seams. Cardinal overlaps the vinyl, then vulcanizes it, for a smooth, strong, beautiful surface.
Easy care liners: The smooth vinyl surface has no rough or textured surfaces, making it easy to maintain. Simply wipe the vinyl surface with a soft cloth or sponge as needed. Each liner is formulated with ultraviolet inhibitors and anti-bacterial agents. With proper maintenance, your liner should give you many years of trouble-free service.
Fast delivery: When you need a liner, chances are you need it in a hurry. Cardinal Liners is geared to meet these needs. In many cases, we have delivered our products, even to our west coast customers, in record time. Our Express Service can get a liner moving to your job site fast!
Warranty protection: Cardinal liners protects each in-ground pool liner with a 25 year pro-rated warranty.
Quality control is paramount at Cardinal, from initial design through final inspections before shipment.
---
Steps
The Cardinal pools come with a set of what is called liner-over-steps. What this means is that instead of having a white thermoplastic or fiberglass step you have a step that has the actual pool liner over the entire step area. Everything needed to frame up the steps is included in these types of pool packages. The image below is a good example of the step. The liner could completely cover the steps.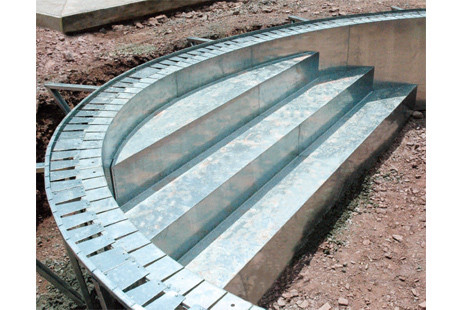 ---
Turnbuckles
Cardinal Fold-Over turnbuckles make for an easy installation of the wall supports. The turnbuckles are easy to use and allow the wall to be trimmed inward or outward to plumb the wall. No other pool system has the ability to fine tune the walls in this fashion.
---
Coping
2" Aluminum In Ground Pool Coping with integral liner track for easy liner installation.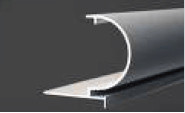 ---
Deck Brace (Optional)
Concrete Collar
Skimmer
Waterfall Feature
Cuddle Cove
Vinyl Liner
Diving Board
Step Ladder
Decorative Brick Coping
Walk-in-Stairs with handrail
Liner Bead Receptor
Fold-Over / Turnbuckle Support Assembly
G-235 Steel Panel Wall
Do you install your own appliances? Is your favorite weekend activity renovating your own home? If you have answered yes to any of these questions, chances are very good that you can install your own pool. With you, the homeowner, in mind, we have designed a line of pools that you can install yourself, using our 50+ years of pool manufacturing experience. The result will be a backyard paradise that you will be able to proudly look at and say - "I did that".
We don't have contractors whom we recommend for Inground Swimming Pool Installation. Installation of an inground pool does not have to be done by a pool company. A general contractor, home builder, companies who do additions on homes, etc. can do the installation. Installation is straight forward and quite basic. Below is some information you might find useful in understanding the installation process.
Installation of the inground pool you're interested in is a basic and straight forward construction process. No specialized skill sets are needed to complete the backyard transformation of a life time. If you are handy (or have people help that are) and can follow instructions, then this project is for you.
We've been selling these pools for over 20 years and a few years ago we stopped doing the actual installation so we could better focus on the Do-It-Yourself process. When any of our inground pools are purchased you will be contacted so we can start and continue a conversation through the entire installation process. You'll have 24x7 access to an experienced in-house builder who can answer any questions you or your builder may have.
If you don't feel you're up to this project you should be able to find others to complete it for you. You've a few options. You can either act as a general contractor and hire sub-contractors to do the various tasks or you can hire one company and have them do all of it. Again, because the construction process is generic and straight forward; finding an installer shouldn't be that difficult. Here are some types of companies to look at, though it's not a complete list.
General Construction Companies
People who do additions on homes
Other pool companies
Companies who install driveways
Landscapers
Local Handyman
Etc.
Upon delivery assistance will be required to help unload the shipment. The walls will come banded to a pallet. The pallet can be unbanded and the panels taken off the delivery truck one at a time. If you have access to a forklift that would be beneficial but not at all necessary. Two able bodied adults can unload the panels.
Not
e:
Shipments West of the Rockies may incur an additional charge to account for freight over the mountains. If you would like to email us at [email protected] we'll check your address and advise if there is an additional charge or not.
Due to inventory availability some accessory equipment items
may