We recently received a phone call from a proud owner of a Merlin SmartMesh Safety cover about getting his current cover replaced.
I inquired as to why and was told that it was due to Hurricane Sandy. The customer went on to say the wind had blown a tree over into his pool but had no idea the size. After receiving the picture with the tree lying on the cover, I shook my head and thought to myself that the cover did what it was supposed to do.
Now, can you just imagine how good it will do if something, someone much lighter got on the cover? Nothing, really. Maybe they would get a little bit wet but certainly the cover is designed and certified to hold a person. If it can hold this tree after more than a week the tree is still laying on the pool and the cover is still holding strong. See for yourself below.
Hurricane Sandy couldn't beat down the strength of the Merlin SmartMesh Safety Cover!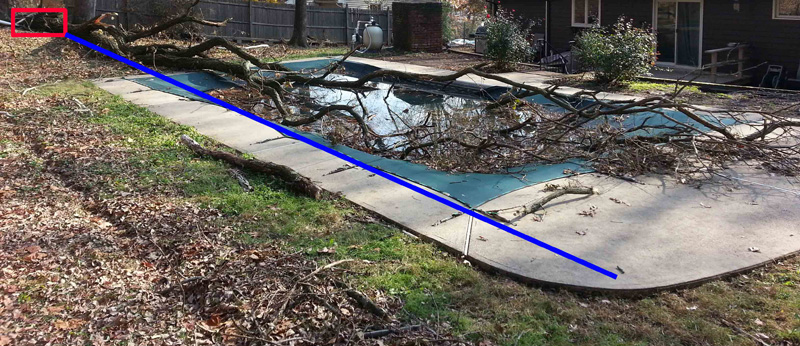 The red box notes where the base is and the blue line is the height of the tree laying down, estimated at over 50 feet tall. The force of the tree coming down on that cover must have been immense, but this certified-safe safety cover did what it's supposed to do............TAKE IT!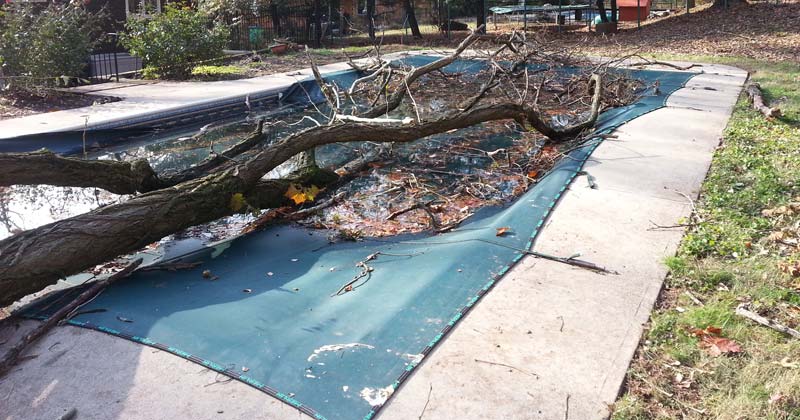 The force of the tree falling onto this cover was well beyond what the ASTM standards, yet this cover withstood that "Fall Force" factor and is still holding the tree. Note - Tree is only left in its location until an insurance adjuster comers out to determine damage.
Merlin pool covers are the strongest in the industry. After all, don't you want one of the strongest and Safest winter pool covers possible? These swimming Pool Covers Protect Most Importantly Your Family and your pool. Our Certified-SAFE Safety Swimming Pool Covers are available in Either Mesh or Solid Material for Peace of Mind and 'curb appeal'. These mesh safety covers and solid safety covers meet or exceed pool safety cover performance standards as set forth in ASTM F1346-91(2010).
Read our Pool Safety Cover FAQ's list.
All Merlin Mesh & Solid Pool Safety Covers come complete with all hardware necessary to properly install the safety cover yourself.