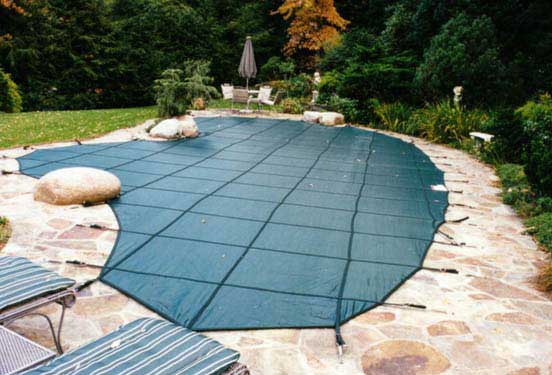 Merlin Classic-Mesh safety covers are the predecessor to the Dura-Mesh safety covers. This is the original Dura-Mesh cover, which is now the Classic-Mesh. Same great properties, same strength and ASTM certification; just a better price.
Mesh is the ultimate in convenience and function when it comes to pool safety covers. It is no wonder all of our competitors are trying to copy this one of a kind cover material. Make sure your cover says Merlin. Make sure you get a PatentedPool Safety Cover.
These mesh safety covers and solid safety covers meet or exceed pool safety cover performance standards as set forth in
ASTM F1346-91(2010)
.
Read our Pool Safety Cover
FAQ's
list.
Select a Pool Shape below to see our selection of sizes and pricing.
These pool covers are considered stock covers with concrete deck anchors and any modifications or adjustments may result in an upcharge and/or customization charge.
All safety covers ordered with a side step will be verified for step location prior to shipping.
Safety cover step location is determined by standing at the deep end and looking toward the shallow end. If the step is on the left, it's a left hand step. If the step is on the right, it's a right hand step.