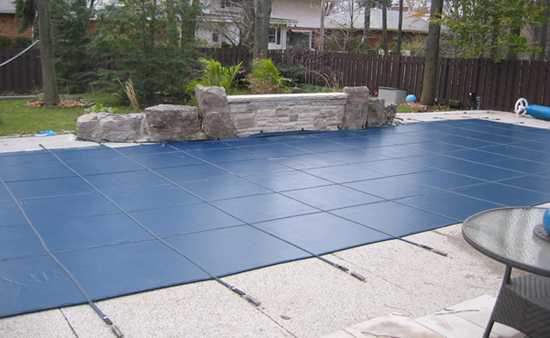 Blue Cover Shown Above, Standard Stocking Cover is Green
The SmartMesh Pool Safety Cover is the ultimate cover. An industry innovation, our exclusive mesh lets water through while providing 100% shade/UV Block to significantly reduce algae growth. Combining the pros of both mesh and solid covers, SmartMesh is lightweight yet features the highest burst strength, tear strength and abrasion resistance. We back SmartMesh with a 15-year limited warranty.
Even
Hurricane Sandy
couldn't beat down the strength Merlin SmartMesh Safety Covers!
Until now pools with mesh covers have had a tendency to open up looking more like a frog pond than a pool! Each season, pool owners pull off their mesh covers and go to work trying to get their pools clean and clear enough to swim in. Sometimes this process can take weeks and cost hundreds of dollars.
That is why we the SmartMesh safety covers were developed. A truly unique mesh material, SmartMesh provides 100% shade from the algae causing rays of the sun, while still allowing rain and melting snow to pass through the cover material. This material is so special we were granted a U.S. Patent!
Select a Pool Shape below to see our selection of sizes and pricing.
These pool covers are considered stock covers with concrete deck anchors and any modifications or adjustments may result in an upcharge and/or customization charge.
All safety covers ordered with a side step will be verified for step location prior to shipping.
Safety cover step location is determined by standing at the deep end and looking toward the shallow end. If the step is on the left, it's a left hand step. If the step is on the right, it's a right hand step.